Why Brimma?
[su_column size="1/4″]
Custom-Built Design
[/su_column][su_column size="1/4″]
Professional Install
[/su_column][su_column size="1/4″]
Simple Process
[/su_column][su_column size="1/4″]
Exceptional Service
[/su_column]
Brimma Solar is a full-service PV solar installation contractor and we deliver turn-key solar system solutions for both residential and commercial. We're a leader in Washington and our team of professional journeyman electricians and mechanical installation specialists have helped more than 750 local families and businesses to reach their clean energy goals.
– Serving WA state since 2011
Expertise
PV solar is all we do and our experience shows. All of our clients receive quality workmanship, the best products our industry has to offer, and exceptional customer service.
Accreditation
We are fully licensed, bonded, and insured and offer a 5-year workmanship warranty. We are also registered installers of made-in-WA solar components and are pre-certified
 with many WA utilities as a PV solar installation contractor.
Turn-Key Solutions
We believe the switch to solar should be as easy as possible. That's why we handle the whole process, from system engineering and project financing, to permitting and inspection scheduling. Our installations typically take just one-day or less and we
 always offer dedicated customer support throughout the entire process.
But don't take our word for it. Take a look at what our past customers have to say:
[testimonials_slider category="front-page"]
Our Team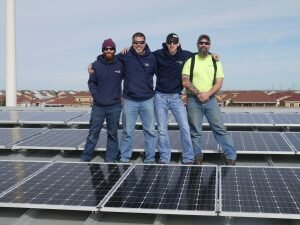 At Brimma, we are passionate about helping others go solar. We're proud to offer a team of experienced and knowledgeable professionals who are dedicated to giving our customers a smooth and effortless transition into clean energy.
Like our workmanship, the relationships we build with our customers and communities are made to last. Our customer-first focus values communication, personal care, and long-term support with each and every client, ensuring that our work will remain a valuable asset for years to come.
[tlpteam col="2″ member="2″ orderby="menu_order" order="ASC" layout="3″]
Our Mission
Brimma Solar was founded with a principle mission in mind: commitment to a positive change. We are passionate about bringing clean energy to the Pacific Northwest and our goal is to bring the benefits of solar to as many local families and businesses as we can. We believe renewable energy should be accessible to all and our team is dedicated to educating buyers and working hard to ensure our clients the best in quality and performance for their energy needs.
When you choose Brimma, you can know that your business makes an impact on more than just the environment. We are family-owned and operated and use in-house labor paid with living wages. We take our responsibility as a business seriously and treat all of our suppliers, workers, and clients with integrity and accountability.